MeetingResult is dedicated to ridding the world of ineffective, under-performing and outright wasteful business meetings.
Why We Did It
For most of our early careers, the co-founders of MeetingResult suffered in conference rooms just like yours. We too sat through unproductive, unplanned, unstandardized, and over-attended meetings that drove nothing more than ambiguous outcomes while consuming most of our waking day. We too saw action items, decisions and ideas briefly come to life only to flounder from a lack of meeting follow-up and accountability, never to be heard from again. At that time we were inexperienced and didn't know any better. We naively accepted the status quo of meeting performance believing "that's just the way it is".
However, as we grew in our careers as leaders and project management professionals (PMP), we realized that we simply had to change the status quo of our own meetings. As you probably know, running great business meetings is the cornerstone of any project manager's success. We witnessed our share of failed projects and we knew that if we didn't change our approach our projects would follow the all too common path of failure (i.e. over budget, behind schedule, missed objectives).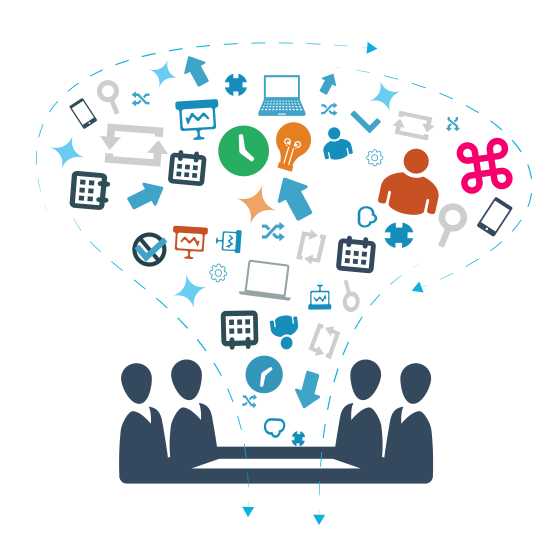 How We Did It
We started by developing a meeting process that we could use ourselves. We were focused on bringing the highest level of clarity, accountability and effectiveness to our own meetings. We did extensive research, modeled the best meeting leaders, and continued to improve our process through trial and error. We extensively studied what works (and what doesn't) and we applied these principles first hand to deliver results in conference and board rooms just like yours. We received recognition and promotion largely in part to our ability to run great business meetings.
After decades of experience managing literally thousands of meetings we decided that it was time to share this simple meeting management system beyond just ourselves and our teams. We packaged our meeting process into powerfully simple training and technology that will enable your organization to have fewer, faster, focused meetings.
At MeetingResult we believe in simplicity, clarity and accountability. By leveraging our meeting process, skills and tools in your organization we know that we'll be one step closer to saving the world from ineffective, under-performing and outright wasteful business meetings.
The mission behind the mission of MeetingResult is to use our resources to support vulnerable children throughout the world.