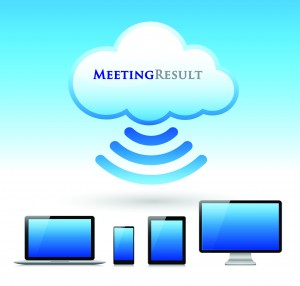 The new cloud enabled version of MeetingResult for Business will introduce a whole new level of collaboration around meetings during the planning, execution and follow up phases.  This new version incorporates many of the features that our customers have asked for over the past year.  We are excited about the new functionality and believe that it will significantly improve the productivity of your meetings.  Below is a list of specific enhancements that are included in the first cloud-enabled release of MeetingResult for Business.
Syncing of all stakeholder, project and meeting data to the Cloud to provide backup and restore capabilities.
Status tracking for action items, issues and risks captured during meetings.
Complete online access to all project, stakeholder and meeting data.
Streamlined status updates via cloud service and iPad.
Advanced search capabilities that provide full text searching across all of your MeetingResult data.
Project and meeting level reporting on meeting performance.
Workflow features that provide email reminders for action item, issue and risk owners.
Tagging of stakeholders on meeting assets which trigger automated email notification to tagged stakeholders.
Completely redesigned iPad user interface that introduces significant user experience enhancements
Add calendar view for all date selection fields
Reordering of meeting assets within the asset type lists
Add Meeting Subscriber selection to meeting planning to allow distribution of meeting summary reports to people who don't need to attend meetings but who still need to be informed of the meeting outcome.
If you would like to take part in the Beta testing of this exciting new version please send us an email at  feedback@meetingresult.com and we will get you signed up to participate in our beta testing program.